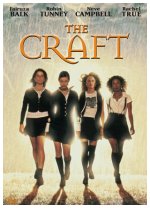 Robin Tunney stars in this supernatural thriller as Sarah Bailey, a Catholic school newcomer who falls in with a clique of teen witches who wield their powers against all who dare to cross them -- be they teachers, rivals or meddlesome parents. Directed by Andrew Fleming, this cult film favorite features early career performances from Neve Campbell and Skeet Ulrich, shortly before their breakout turns in Wes Craven's 1996 hit Scream.
Horror, Supernatural
27










Not particularly great, but fun nevertheless. More clever than the common teen movie.