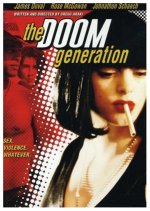 Carnage ensues when trash-mouthed, meth-freak Amy Blue (Rose McGowan) and her dim-bulb boyfriend, Jordan White (James Duval), save depraved drifter Xavier Red (Johnathon Schaech) from some skinheads. A clash with a convenience-store clerk leads to a killing, and the trio finds themselves on the run. Their hellish road trip spawns remorseless brutality; as the journey proceeds, it grows ever more nihilistic -- resulting in a shattering conclusion.
Comedy, GLBT, Indie

14










It is rare that I can find nothing good about a film. "The Doom Generation" is one of those films. It is riddled with pointless sex and violence and while that may have been the actual point, to show our desensitization, I just didn't get it.
No comments found, be the first!

10










One of the worst movies I've ever seen, dialogue that's embarrassing to hear, and overall so bad that I rated it 0 stars despite Rose McGowan being naked in it.