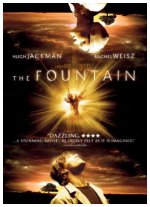 In this sci-fi drama that spans a millennium, a man (Hugh Jackman) searches for a tree believed to grant eternal life in 16th-century Spain; seeks a cure for his wife's (Rachel Weisz) cancer as a present-day scientist; and traverses the universe as a 26th-century astronaut. As he travels through time in an epic struggle to save the woman he loves, he also comes to understand some of life's murkiest mysteries.
Drama, Fantasy, Romance, Sci-Fi
27










Rachel Weisz and Hugh Jackman are great in this abstract, semi sci-fi movie. It is visually compelling, and deals with death and life in a convoluted yet interesting plot that keeps you watching till the very end.