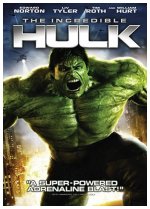 Edward Norton stars as Bruce Banner in this big-screen version of the classic comic-book tale about a doctor who searches for an antidote to his exotic condition, which causes him to transform into a hulking, green monster when under duress. Drawing closer to finding a remedy, Dr. Banner becomes sidetracked as he's pursued first by the military and then by a rival monster known as the Abomination. Liv Tyler, Tim Roth and William Hurt co-star.

Action, Fantasy, Sci-Fi, Superhero
27










Edward Norton is far better in the role than Eric Bana. This is what the first
Hulk
movie should have been like. Finally a Hulk movie good enough to leave you hoping for a sequel.