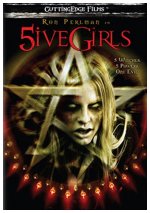 Ron Perlman (Hellboy) stars as the resident Catholic priest in this horror flick from director Warren P. Sonoda set in a reform school. When five troubled teenage girls are sent to the academy, they expect to clash with their keepers -- what they don't expect is that their keeper will be a demon named Legion who holds the institution in thrall. Luckily for the girls, they possess unique powers that enable them to battle the ancient ghoul.
B-Movie, Horror
27










A bit long in the beginning, with a few plot items that don't make sense. Some good scenes once it gets going, with an entertaining ending.
The Craft
is a better choice in this genre.