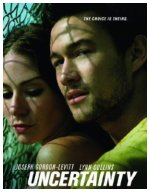 A young couple facing a life-changing decision, Bobby (Joseph Gordon-Levitt) and Kate (Lynn Collins), stand on the Brooklyn Bridge, toss a coin and let the outcome decide their holiday plans. The action unfolds in intercutting scenes of both possibilities. This creative cinematic puzzle from filmmakers Scott McGehee and David Siegel (Bee Season) reveals an intricate thriller as well as a tense relationship drama.
Drama, Indie, Thriller
27










Wasn't sure what to expect from this, the trailer is a bit bipolar. The cast is fine and the acting is okay. I think it's titled Uncertainty because they weren't sure what type of movie to make. It cuts between between two totally different genres.