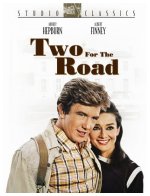 In director Stanley Donen's 1967 classic, married couple Mark and Joanna Wallace (Albert Finney and Audrey Hepburn) take a journey through their past and present, literally and figuratively, by once again embarking on a road trip where they first met -- Europe. The odyssey is a roller coaster of joy and heartache as they revisit their relationship, hoping that, once and for all, they'll be able to figure out their future ... together or apart.
Classic, Comedy, Drama, Foreign, Romance
27










Audrey Hepburn makes it easy to forgive flaws. This was a bit on the long side and didn't have much in the way of plot - just following the everyday adventures of two people.