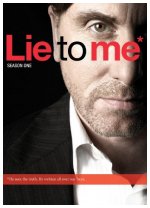 Tim Roth stars as Dr. Cal Lightman, a behavioral scientist with a special talent for reading the giveaway body language, facial expressions and other tell-tale signs criminals exhibit when trying to get away with a lie. Together with his crack team of specialists, Lightman helps the FBI, local police, lawyers and ordinary citizens who need help uncovering the truth in sticky situations. Brendan Hines and Monica Raymund co-star.
Drama, TV

4










My new dream in life is to try to pull off a lie to Cal Lightman. Even though he's a fictional character. The show is different from most, and is very interesting.
27










Not really a cop show or a paranormal show, but has elements from both since lie detection is a bit like magic. The cast isn't super awesome, but they do a fairly good job with the show. Entertaining.