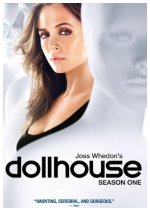 Eliza Dushku and company return for a second season of this intriguing sci-fi series centering around a group of brainwashed operatives controlled by a shadowy organization led by Adelle DeWitt (Olivia Williams). Tahmoh Penikett ("Battlestar Galactica") co-stars as Paul Ballard, the dogged FBI agent obsessed with exposing the Dollhouse.
Action, Adventure, Fantasy, Sci-Fi, TV
27










After seeing
Firefly
I had high hopes for this series, but the first season turned out to be rather cold and uninspired. The second season it seems to have become a bit more interesting, based on the season finale episode.