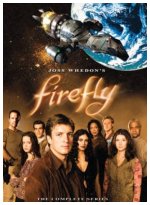 Set almost 500 years in the future, this short-lived but much-loved TV series follows the adventures of the ragtag crew (including Nathan Fillion, Gina Torres and Alan Tudyk) of the transport spaceship Serenity, who view no job as too small, too dirty or too close to the line of illegality. When a passenger is wanted by the ruling Alliance regime, the Firefly must hide out in the dangerous fringes of space.

Action, Adventure, Fantasy, Sci-Fi, TV

11










A unique and interesting sci-fi. Think of the Wild West in space. Little by way of futuristic/sci-fi technology but still great to watch.
27










One of the most creative sci-fi shows in quite some time. This is what Star Wars was back before it got ruined by all the sequels, remakes, and remastering. The cast is great, and the story is fun.