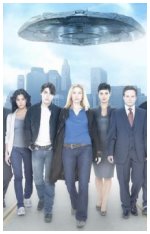 Who are they, and what are they up to? These are the questions Earth inhabitants pose in their first encounter with an alien race called the Visitors in this ABC sci-fi drama based on the 1980s miniseries V. When Homeland Security agent Erica Evans (Elizabeth Mitchell) begins to find the answers, she joins a resistance movement to thwart the Visitors -- even as they recruit her teenage son as their spy.
Drama, Fantasy, Sci-Fi, TV

11










It's alright, worth a watch but nothing special.
27










The first episode was excellent, but after that the show started dragging quite a bit. Felt like many episodes not much actually happened. That said, most of the acting is pretty good, except for Logan Huffman who is fairly annoying.