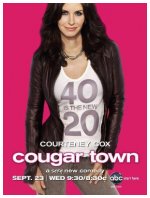 When a divorce leaves her suddenly single, Jules (Courteney Cox-Arquette) decides to hit the dating market again. Now she's facing two new realities: she's a "cougar," or older woman, and she's totally clueless about the modern singles scene. At the same time, her 17-year-old son (Dan Byrd) is finding his own way through the dating world for the first time. Brian Van Holt, Busy Philipps and Christa Miller co-star in this knowing sitcom.
Comedy, TV
27










Between this train wreck and
Dirt
I think Courtney Cox needs to start turning down lead roles in sitcoms. Disaster.