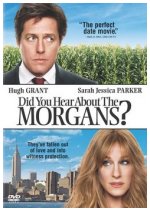 Did You Hear About the Morgans?
2009










After witnessing a murder, high-powered -- and estranged -- wife Meryl (Sarah Jessica Parker) and husband Paul (Hugh Grant) Morgan must say good-bye to sophisticated Manhattan when they enter the witness protection program together and land in Wyoming. At odds, they attempt to adjust to small-town life in this charming comedy that also stars Sam Elliott, Mary Steenburgen and Elisabeth Moss. Marc Lawrence (Two Weeks Notice) writes and directs.
Comedy

15










Expected the worst from this one but was very pleasantly surprised. Light, but very funny in places, especially in the first hour. Not the slapstick silliness I expected. Romantic chemistry was a bit low, but it worked well enough to entertain.