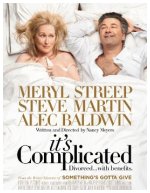 Ten years after their divorce, Jane (Meryl Streep) and Jake (Alec Baldwin) enjoy an amicable friendship. When the two unite for their son's college graduation, their romance is rekindled. But Jake is married, and Jane's architect, Adam (Steve Martin), has a thing for her. Now cheating on the younger woman for whom he left Jane, Jake wants his ex-wife back. But Jane's busy getting to know Adam. This love story is complicated indeed -- and fun.
Comedy, Romance
27










The acting was fine I guess, but I was expecting a lot more from this cast. John Krasinski is the best character by far.
The Family Stone
beats this by a mile, and Meryl Streep was far better in
The Devil Wears Prada
.