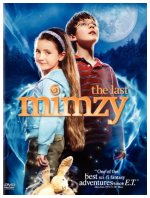 After Emma (Rhiannon Leigh Wryn) and Noah (Chris O'Neil) discover a mysterious box of toys that's been sent from the future, the siblings start to develop some inexplicable, unearthly abilities in this family adventure. As their mother (Joely Richardson) and teacher (Rainn Wilson) delve deeper into the mystery, the adults as well as the children are drawn into a strange and unpredictable world, and escaping may not be an option.
Adventure, Children, Fantasy, Sci-Fi
27










Kids movie. Actually as far as kids movies go it was fairly good. Occasionally there were sections where the acting was horrible - but overall it was cute.