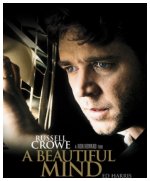 John Forbes Nash Jr. (Russell Crowe) was a brilliant economist -- when his mind was clear. But life changed forever with the revelation that he was schizophrenic, although his brilliance persisted amidst the anguish his mental illness caused for him and his wife (Jennifer Connelly). Ron Howard directs this Oscar-winning drama that picked up honors for direction and acting (Connelly) as well as the Best Picture prize.
Biography, Drama, Romance, Thriller

16










Memorable, especially for its scenes showing Nash's descent into his own conspiracy theories, and its effects on those around him.