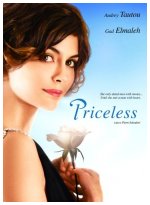 Irène (Audrey Tautou), who makes a fortune sweet-talking rich men, puts the moves on klutzy Jean (Gad Elmaleh), unaware that he's just a hotel bartender. But by the time Irène realizes her mistake, Jean is hopelessly smitten with her. Letting men down easy has never been Irène's strong suit, but she finds a way to mend Jean's broken heart that ensures he'll never have to mix cocktails again. Vernon Dobtcheff co-stars in this wacky French farce.
Comedy, Foreign, Romance
27










Foreign with subtitles - a really cute romantic comedy about an escort type woman and a bartender. The ending is a bit trite and predictable, but overall it was good.