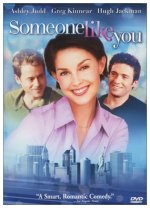 Jane (Ashley Judd) has it made: She's the talent booker for a popular talk show and has started dating the show's studly executive producer (Greg Kinnear). But when Jane gets summarily dumped, she has no choice but to move in with her womanizing co-worker (Hugh Jackman). The whole experience prompts a now-bitter Jane to write a tell-all advice column about why men do what they do. But true love could be closer than she imagined.
Book, Comedy, Drama, Romance
27










More depth and humor than a normal romantic comedy - the cast of this movie is excellent, and the story is pretty good too.