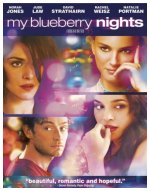 Restless and young Elizabeth (Norah Jones) travels cross-country working a variety of waitressing jobs and connecting with an odd assortment of characters along the way, including policeman Arnie (David Strathairn), his unfaithful wife, Sue Lynne (Rachel Weisz), and a flighty young gambler (Natalie Portman). But Elizabeth realizes that her touchstone is Jeremy (Jude Law), the owner of a café she haunted back home in New York.
Drama, Indie, Romance

10










I felt it was trying to be too cool for its own good. There was very little coherent point to the whole movie, though it was beautifully shot and the actors did well. Bunch of lost souls interacting with each other.
27










Excellent characters and interaction. Not a whole lot in the way of overarching plot, but you don't miss it with this movie. Surprisingly Natalie Portman was the weakest actor in the movie, but she was still average.