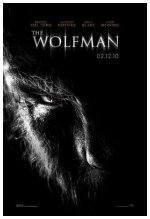 Based on the 1941 classic, this werewolf-themed horror film set in Victorian England centers on Lawrence Talbot (Benicio Del Toro), an American man who, upon a visit to London, gets bitten by a werewolf. Talbot had come to England to make amends with his estranged father (Anthony Hopkins), but after a moonlight transformation leaves him with a savage hunger for flesh, family harmony is the least of his worries.
Horror, Supernatural

10










While great at times, lacked the authenticity I expected. As if the actors were trying to live up to the original vs. making a good movie. It would grab my attention and lose it almost as quickly.