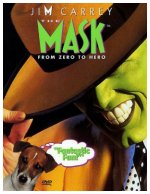 A meek, milquetoast bank teller (Jim Carrey) discovers a magical ancient mask that unleashes his deepest desires -- and gives him the superhuman ability to act on them. Accompanied by his canine sidekick, the mischievous action hero goes gaga for a singer (Cameron Diaz). Meanwhile, he battles gangsters who seek the mask's powers. Inspired by The Mask comic book series, this live action/cartoon hybrid garnered a Best Visual Effects Oscar nomination.
Action, Comedy, Fantasy, Superhero
27










Half cartoon, half Jim Carrey craziness - this comic book role was perfect for him. Cameron Diaz was also a star as the pretty young lounge singer. Docked it half a star for unnecessarily crude humor with the dog, but besides that it was great.