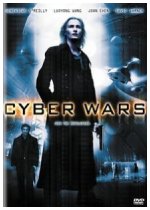 In an Asian city of the future, every citizen's identity is recorded in a vast computer system known as CyberLink, and no one's privacy is sacred. But when young bounty hunter Dash MacKenzie (Genevieve O'Reilly) discovers that the data collection is all part of an organized corporate effort to launch a large-scale deadly game, she joins forces with a police detective (Luoyong Wang) to bring down the guilty parties.
Adventure, Fantasy, Sci-Fi, Thriller
27










The acting isn't great, but the story is fairly neat if you enjoy cyberpunk. The CGI is low-quality, but it's good enough to get the point across. This film actually reminds me quite a bit of the video game Deus Ex, both in flavor and theme.