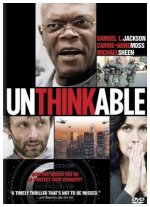 When the government gets wind of a plot to destroy America involving a trio of nuclear weapons, locations unknown, it's up to a seasoned interrogator (Samuel L. Jackson) and an FBI agent (Carrie-Anne Moss) to find out exactly where they are. A suspected terrorist who's already in custody is their only chance for a timely answer. But what will it take to get him to talk? Michael Sheen, Brandon Routh and Martin Donovan co-star.
Spy, Thriller
27










An excellent suspense film about terrorism and interrogations. The cast is fantastic and the plot is good as well. The movie addresses moral questions without feeling preachy - and all the characters feel very human, no matter how evil they are.

10










Powerful movie. makes you think about this country. i thought carrie-anne moss was a lil weak, the ending could have been better but for the most part, excellent movie.