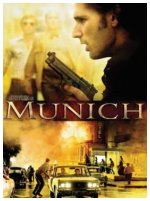 In this thriller based on actual events, Palestinian terrorists hold hostage and ultimately kill a group of Israeli athletes during the 1972 Summer Olympics in Munich, prompting a Mossad agent (Eric Bana) to track down the assassins in the tragic aftermath. Ciaran Hinds and Geoffrey Rush co-star in this film directed by Steven Spielberg and written by Tony Kushner, the award-winning playwright of "Angels in America."
Drama, Sports, Spy, Thriller
27










Fantastic drama/thriller with a bit of action mixed in. Eric Bana was good, but Lynn Cohen really stole the show with her small role. The beginning provides the right balance of action and humor to draw you into this sometimes heavy film

11










This is heavy action packed, and even brutal in some parts. Based on real events, hardcore action.