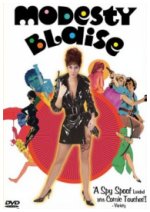 Meet Modesty Blaise (Monica Vitti), James Bond in a mini-skirt. She's the world's deadliest secret agent … who never seems to get her hair mussed. The British government employs Modesty as a decoy to foil a diamond heist -- but before you can slip into a pair of platform shoes, Modesty smells a rat, so she calls for help from her cohort, Willie Garvin (Terence Stamp).
Action, Classic, Comedy, Spoof
27










The female version of
Our Man Flint
- not exactly great cinema, but it passes the time.