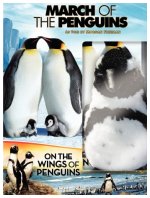 March of the Penguins
2005










Award-winning photographer Luc Jacquet takes documentary film to new heights -- and depths -- with his first feature film, a stunning insider's look at the life of emperor penguins living in one of the cruelest climates on the planet. The product of more than a year of filming on the Antarctic ice, this Oscar-winning documentary reveals never-before-captured footage of the penguins' underwater life and explores their steadfast quest for monogamy.
Adventure, Children, Documentary
27










An interesting documentary, made even better by the narration done by Morgan Freeman.