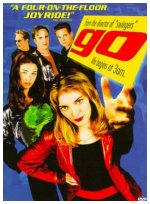 Events conspire to bring together a disparate group of characters in unexpected ways as a day in their intertwining Gen-X lives plays out in director Doug Liman's fast-paced follow-up to Swingers (1996). Beginning with a supermarket clerk who gets in over her head trying to score quick cash, the story then moves to the adventures of her drug-dealing coworker and finally to a pair of actors working off a drug rap. Sarah Polley and Jay Mohr star.
Comedy
27










The start was fine, but about a third of the way in it devolved into a crazy Vegas story somewhat like
The Hangover
- pretty much unrelated to the first part. The last third was somewhat related, but not as good as the start.