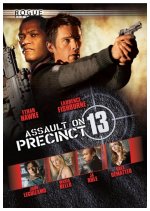 Assault on Precinct 13
2005










With nothing more than a bare-bones operation to back him up, detective Jake Roenick (Ethan Hawke) must take on a deadly mob of criminals who have thrown down the gauntlet and are openly hunting down a heinous kingpin (Laurence Fishburne) in a battle for street sovereignty. Threatened with permanent closure due to budget constraints, Roenick's police precinct is holding on by a thread. But can his ragtag troop stop the bloodshed?
Action, Adventure, Thriller
27










This remake succeeded in keeping the flavor of the original
Assault on Precinct 13
while fixing the plot flaws. It has a great cast and a nice thriller pace with some violent streaks to liven things up a bit. Not spetacular, but a solid film.