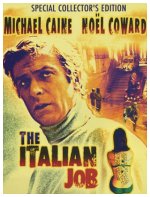 In director Peter Collinson's Golden Globe-nominated caper flick, enterprising swindler Charlie Croker (Michael Caine) hatches an ingenious plan to steal a huge cache of Chinese gold en route to Turin, Italy, as collateral for a new Fiat plant. The diversion for the heist: A gigantic traffic jam during an Italy-Great Britain soccer match. Incarcerated criminal genius Mr. Bridger (Noel Coward) helps Croker get financing -- from his jail cell.
Action, Classic, Comedy, Foreign, Heist, Thriller
27










The Italian Job
remake was much better than this. The set up was great, reminiscent of the old Bond films - but after that it got corny. The chase sequence was rather ludicrous, and the ending was just silly.