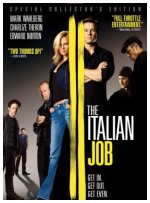 Mark Wahlberg stars as Charlie Croker, a clever thief who masterminds a major heist amid the waterways of Venice, Italy -- but a betrayal by one of his own spells disaster, and Croker returns to Los Angeles without the stash, plotting revenge. With an eye on recovering his riches, Croker rounds up his crew -- adding an ace safecracker (Charlize Theron) to the mix. Donald Sutherland, Seth Green and Mos Def also star in this elaborate crime caper.
Action, Adventure, Thriller

6










One of my all-time favorite movies. I didn't think it was that good, but I was proved wrong within the first 10 minutes. The soundtrack, plot, characters...everything was perfect. And the heist was absolutely entertaining.
27










Not perfect, but the cast doesn't disappoint and the film jumps straight into the action. Appropriately, it stole some of the more iconic scenes from the original
The Italian Job
, and the stunts were good. My big complaint is the overly cute ending.