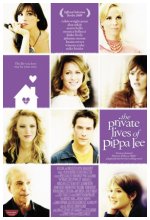 The Private Lives of Pippa Lee
2009










In this drama adapted from director Rebecca Miller's novel, middle-aged Pippa Lee (Robin Wright Penn) finds herself suddenly single when her husband leaves her for a younger woman. Indulging in assorted erotic adventures, she slides toward a nervous breakdown. Keanu Reeves stars as Chris, Pippa's younger lover; Julianne Moore is lesbian novelist Kat; Alan Arkin plays Pippa's husband, Herb; and Winona Ryder is the other woman, Sandra.
Book, Drama, Romance
27










The parts acted by Robin Wright Penn were fairly depressing. The Blake Lively half wasn't as well acted, but more entertaining. Watching old people struggle with their humanity isn't particularly fun.