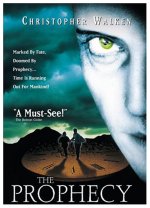 Angels have no souls, but men do. Dark angel Gabriel (Christopher Walken) is angry because God has allowed humans into heaven, so Gabriel descends to earth to capture the most evil human soul he can find, planning to use it to defeat his enemies in an apocalyptic battle. While a good-hearted angel (Eric Stoltz) hides the soul in the body of a little girl, a detective (Elias Koteas) on earth tracks Gabriel's every move.

Horror, Supernatural
27










Another angel/devil film, but this one was rather long for the amount of content.