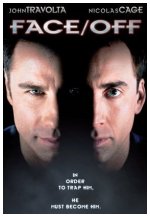 John Woo directs this explosive cat-and-mouse pursuit starring John Travolta as Sean Archer, an antiterrorism agent who goes under the knife to acquire the likeness of a terrorist, Castor Troy (Nicolas Cage), to gather details on a bomb targeting Los Angeles. When Troy escapes from custody, he turns the tables and undergoes surgery to take on Archer's appearance -- allowing the criminal to get dangerously close to the agent's wife and daughter.
Action, Adventure, Thriller

16










Utterly silly, but that's pretty much the point with John Woo flicks. Still pretty entertaining. However, Nick Cage as annoying as he usually is.

15










Out of the ordinary plot with outstanding acting by Cage and even better acting by Travolta. The shoot-outs, fights,and chases get a bit tedious, and some characters become caricatures, but the story line twists enough to keep you watching.
27










John Travolta and Nicolas Cage give solid performances, and although it isn't a full-tilt action movie it has enough to keep the story interesting.

11










The acting combination with Nicolas Cage and John Travolta was awesome. The plot was great, highly entertaining.