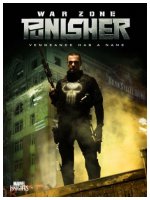 Undercover FBI agent Frank Castle (Thomas Jane) is crushed when his wife and children are killed after accidentally witnessing a mafia hit. So with nothing left to lose or to live for, Castle becomes "The Punisher" -- a one-man judge, jury and executioner. John Travolta, Laura Harring, Samantha Mathis and Rebecca Romijn-Stamos co-star in this moody action film based on the adventures of the popular Marvel Comics character.
Action, Adventure, Superhero, Thriller

11










Classic action hit movie. Good acting and entertaining.