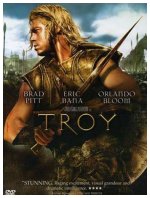 In 1193 B.C., the love-struck Prince Paris of Troy (Orlando Bloom) kidnaps legendary beauty Helen (Diane Kruger) from her husband, King Menelaus of Sparta, setting the two nations on a fast-and-sure collision course for war and bloodshed. The Greeks, including Achilles (Brad Pitt), marshal their entire armada, sail to Troy and begin a decade-long siege. Eric Bana plays Hector, the leader of the Trojan forces, and Sean Bean is the wily Ulysses.
Action, Adventure, War
27










It's a grand movie - unfortunately the dialog and acting are so phony in many cases that it ruins the story. Eric Bana was one of the few who delivered many of his lines in a genuine manner. It is refreshing to see a number of short battles.