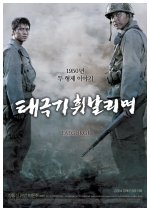 Tae Guk Gi: The Brotherhood of War
2004










Jin-Tae (Dong-gun Jang) shines shoes, hoping to save enough money to send his younger brother, Jin-Seok (Bin Won), to university. Their mother runs a noodle shop and wishes the best for her two sons, even though things have been tough since her husband died. But all bets are off when the Korean War erupts and Jin-Seok is unwillingly conscripted into the war, which forces Jin-Tae to enlist just so he can save his brother.
Action, Adventure, Drama, Foreign, War
8










Touching yet heartbreaking story about two brothers who are unexpectedly drafted into the Korean War. Great direction and acting. Recommended for War film lovers.