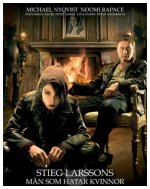 Girl With the Dragon Tattoo
2008










Journalist Mikael Blomkvist (Michael Nyqvist) and rebellious computer hacker Lisbeth Salander (Noomi Rapace) team up to investigate the unsolved disappearance of wealthy Henrik Vanger's (Sven-Bertil Taube) teen niece (Ewa Fröling), only to uncover dark secrets about Vanger's powerful family. Niels Arden Oplev directs this Swedish thriller based on the first novel from Stieg Larsson's best-selling trilogy.

Foreign, Thriller
8










First film of the Millennium Trilogy. Great example of Swedish cinema which combines modern technology with mystery and suspense. The trilogy is doomed for an American remake already in the works.
27










Foreign with subtitles. Excellent acting and the story had plenty of clues and twists.