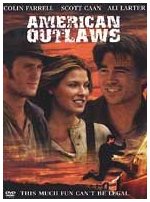 When a corrupt baron forces homesteaders off their land to build a rail line, Jesse James (Colin Farrell) and Cole Younger (Scott Caan) take the law into their own hands and embark on a spree of bank robberies and vandalism aimed at paralyzing the railroad. But they'll have to elude the pursuit of legendary detective Allan Pinkerton (Timothy Dalton), who's been hired by the railroad to bring the boys to justice. Ali Larter ("Heroes") co-stars.
Action, Adventure, Comedy, Western
27










A great cast led by Colin Farrell makes this action western supremely entertaining. What it lacks in historical accuracy it totally makes up for in fun.