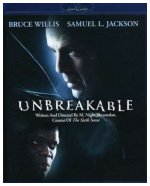 In writer-director M. Night Shyamalan's moody follow-up to The Sixth Sense, Bruce Willis plays an ordinary man who makes an extraordinary discovery when a train accident leaves his fellow passengers dead -- and him unscathed. Is he truly unbreakable? The answer could lie with the mysterious Elijah Price (Samuel L. Jackson), a man who suffers from a disease that renders his bones as fragile as glass.
Sci-Fi, Superhero, Supernatural, Thriller

11










This is a movie full of suspense ! Good acting, however it also was a bit strange, worth a watch though.