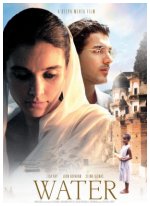 After losing her husband to illness, 8-year-old Chuyia (Sarala) is forced to live out the rest of her days in a temple for Hindu widows, communing with 14 other women and a cruel headmistress who agrees to take her in. But it's through the trials of another widow, a beautiful prostitute named Kalyani (Lisa Ray) who's being courted by a man from a higher caste (John Abraham), that Chuyia learns the true restrictions of widowhood.
Drama, Foreign, Romance

15










One of the most beautiful and touching films I've EVER seen--offers a piercing portrayal of the devastation of prostitution in India without ever sinking into any kind of gratuitousness. Stunning photography, first-rate acting, plus some nice songs.