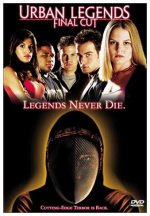 Urban Legends: Final Cut
2000










Alpine University has a killer film program -- literally. When Amy (Jennifer Morrison) decides to make a movie about urban legends, a faceless killer quickly thins her cast, and the lines between fact and fiction become hopelessly blurred. As Amy rushes to unravel the mystery before the murderer gets to her, she learns about a long-buried family secret that may have something to do with the deaths.
Horror
27










Extremely slow compared to the original
Urban Legend
. The cast is decent but that doesn't save the film. Too slow to be a horror, not engaging enough to be a thriller.