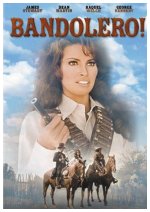 A man (James Stewart) poses as a hangman in order to free a gang of jailed outlaws led by his brother (Dean Martin). Trailed by a posse (led by George Kennedy) into the forbidding bandolero country of Northern Mexico, the brothers take a shapely hostage (Raquel Welch) who could -- make that will -- cause dissension in the ranks. Directed by Andrew V. McLaglen.
Action, Classic, Western
27










The first part of this western is great, a clever set up and escape. Unfortunately, after they cross the Mexican border the film starts to drag horribly and loses all the charisma of the first half.