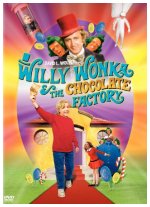 Willy Wonka & the Chocolate Factory
1971










Eccentric candy man Willy Wonka (Gene Wilder) prompts a worldwide frenzy when he announces that golden tickets hidden inside five of his delicious candy bars will admit their lucky holders (including Peter Ostrum and Jack Albertson) into his top-secret confectionary. But does Wonka have an agenda hidden amid a world of Oompa Loompas and chocolate rivers? Mel Stuart directs this Oscar-nominated fantasy based on Roald Dahl's award-winning book.
Adventure, Book, Children, Classic, Comedy, Fantasy, Musical, Sci-Fi
27










A fun classic. The musical parts don't thrill me (except for the oompa loompa songs which are awesome) but they don't seem out of place either. The boat tunnel scene is very strange though, and doesn't fit with the rest of the film.