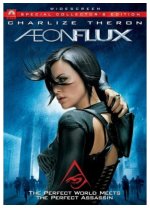 Aiming to hasten an uprising, the leader of an underground rebellion (Frances McDormand) dispatches acrobatic assassin Aeon Flux (Charlize Theron) to eliminate the government's top leader in this futuristic thriller based on the popular animated MTV show. It's the 25th century, and a rampaging virus has forced the remnants of humanity into seclusion. But political conflict swirls within, and the climate is ripe for revolution.
Action, Fantasy, Sci-Fi, Thriller
27










Even though the
Aeon Flux
TV series is sometimes abstract, the movie makes a lot more sense if you've seen it first. Unfortunately this film feels a bit empty if you haven't seen the show.