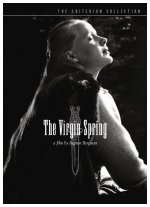 On the way to deliver candles to a church, the virginal daughter (Birgitta Pettersson) of feudal landowner Töre (Max von Sydow) is savagely raped and murdered. But fate takes a vengeful hand when the killers unknowingly seek food and shelter at the girl's home. Will the grief-stricken Töre learn the truth about his visitors? Set in medieval Sweden, this disturbing tale directed by Ingmar Bergman earned an Oscar for Best Foreign Language Film.
Classic, Drama, Foreign, Thriller

14










The Virgin Spring is the inspiration behind Wes Craven's The Last House on the Left. The film is well paced, has some excellent acting and delivers an engaging tale. While not as grisly as Craven's interpretation the film is still brutal in tone.