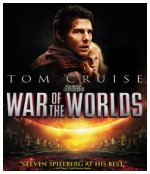 In this loose adaptation of H.G. Wells's novel about alien invasion, Tom Cruise stars as Ray, a divorced dockworker whose children (Dakota Fanning and Justin Chatwin) are staying with him for the weekend when a fleet of spaceships carrying tripod creatures appears in his neighborhood. Forced to become the protective father he's never been, Ray scrambles to usher his kids to safety, as the invasion escalates around them. Steven Spielberg directs.
Action, Drama, Fantasy, Sci-Fi, Thriller

16










An okay adaptation/remake. Had a very strong start, petered out a bit as time passed. Cruise as annoying as usual, but rest of cast made up for it.