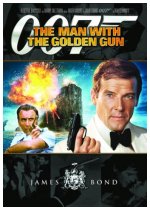 The Man with the Golden Gun
1974










Francisco Scaramanga (Christopher Lee), the world's deadliest assassin, has set his sights set on 007 (Roger Moore). James Bond has a license to kill, but Scaramanga isn't playing by anyone's rules as the cat-and-mouse game of death takes the two from the Far East to Scaramanga's island lair. Also includes director Guy Hamilton's commentary and extensive documentaries.

Action, Adventure, Spy, Thriller
27










A reasonably good yet ordinary opponent for Bond. Solid film, though the countdown ending is a bit melodramatic.