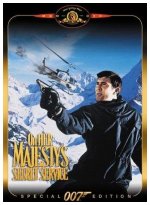 On Her Majesty's Secret Service
1969










George Lazenby takes over the role of Agent 007 for what many consider to be the finest Bond film ever made. Bond tracks archnemesis Ernst Blofeld (Telly Savalas) to a mountaintop retreat where he's training an army of beautiful but lethal women. Along the way, Bond falls for Italian contessa Tracy Draco (Diana Rigg) -- and marries her! The ski chase sequence is a classic.

Action, Adventure, Classic, Spy, Thriller
27










It's nice to see Diana Rigg, but George Lazenby isn't even close to the charm and sophistication of Sean Connery as Bond. The clothes are utterly terrible, along with a very odd ending and an overall too lengthy film.