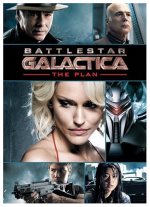 Battlestar Galactica: The Plan
2009










Set in the days after the Cylon attack on the Twelve Colonies, this installment of the sci-fi franchise finds two Cylon agents struggling to implement their master plan in the face of an unexpected contingency: human survivors. Featuring the Battlestar Galactica cosmos as seen through the eyes of the Cylons, the film co-stars series regulars Edward James Olmos (who also directs), Michael Hogan, Dean Stockwell, Grace Park and Tricia Helfer.

Drama, Fantasy, Sci-Fi, TV
27










Like the director's cut scenes that you didn't get to see in the TV series, compiled into a pseudo movie.