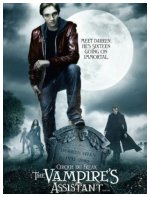 Cirque du Freak: The Vampire's Assistant
2009










Things get freaky fast for 16-year-old Darren Shan (Chris Massoglia) when his friend (Josh Hutcherson) takes him to a circus that's chockfull of sideshow oddities. There, he meets vampire Larten Crepsley (John C. Reilly) and receives a life-changing bite on the neck. As the newest member of the mysterious Cirque du Freak troupe, Darren keeps company with Madame Truska (Salma Hayek) and sparks a war between the vampires and their rivals.
Fantasy, Sci-Fi, Supernatural
27










This was okay, themed well, but not particularly compelling.